3 février 2011
4
03
/

02
/

février
/

2011
21:58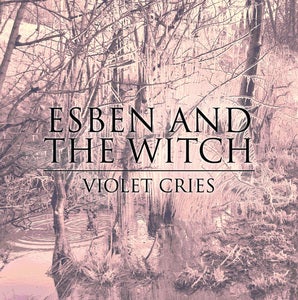 I discovered Brighton-based band ESBEN AND THE WITCH when they came to Paris in the middle of this volcanic month of April 2010. Hardly anyone knew who they were that night but their performance didn't go unnoticed and I have been haunted by Rachel's voice ever since. The band just released their much-anticipated debut album Violet Cries.
The opening track displays every element of Esben and the witch : a dark, macabre atmosphere, some really distorted guitars that still play some subtile melodies and a voice, this voice that you are not quite close to forget. Esben and the witch doesn't really play a genre that looks appealing, the three members don't go the easy way but they play what they want to, which makes their music so unique and intriguing.
Marching Song, the ultimate Esben hymn is filled with cries from ghosts, It all starts with this impressive introduction that is an absolute must-see in concert, especially for Rachel's possessed drumming which is very close to disrupt any normal heartbeat. Then, the whole track seems to be haunted. Progressively gaining momentum, Marching Song at its very end sounds like we are in a complete nightmare, feeling disoriented and confuzed until the moment we suddenly wake up from it.
After a relatively tender Marine Fields Glow, Light Streams sheds its darkness with particularly this instrumental middle section that could very well be the soundtrack for a horror movie. This is the kind of hypnotic sequences that has defined the band's sound and mystic. Hexagons IV is in the same vein while its chorus proves to be the most accessible part of the album. The band skillfully alternates within a song the slow parts and the louder ones, keeping the listener on the edge. The other major song of the album, Eumenides, is a faithful musical personification of Greek mythology deities of revenge, the Furies. The track begins at a quiet pace but then swirls like a tornado in its relentless quest for revenge that culminates with the startling end of the song.
The music of Esben and the witch has a long-lasting effect by uncovering our own dark places, taking us to unknown territories. Often labeled as the next big thing, the band answered with an album full of darkness, cries, electronic sounds, not trying to please everyone's mind but staying true to themselves. The melodies, despite the gloomy atmosphere, are creative and somewhat appealing, although not in the usual way. However, the album would not be what it is without Rachel Davies. Davies transcends, hypnotizes, laminates anyone who tries to resist to her spell with her incredible voice. This voice is very singular as it sounds strangely sweet at first and you don't suspect anything but this is already too late because Rachel's voice is probably going to haunt you forever after listening to this convincing first album from Esben and the witch.