20 janvier 2011
4
20
/

01
/

janvier
/

2011
00:17
(à l'époque, je postais régulièrement et uniquement sur des forums anglais ou américains donc les compte-rendus sont le plus souvent en anglais, les choses s'équilibrant par la suite pour virer complètement en français ces derniers mois)
Here's a few words about my first ever meeting with Brandi Carlile. An unforgettable moment.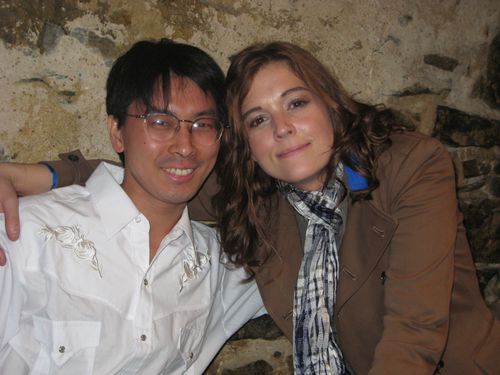 New York City, April 26th 2007
That night, a magical night, the first ever Brandi show I attended. I remembered saying to one of my coworkers in February '07, "that's it, I'm going to do it, I'm going to go to nyc and see Brandi". I've read before that numerous reviews that she was always staying late after the shows to meet people so I went there with pretty high expectations. Basically I wanted to see and meet the person who could make me fly across the ocean just by the strength of her amazing songs.
The show was a blast, total heaven. Very nice venue (the Bowery ballroom). Show over. And then, that was the time for me to hit or miss. I had never faced someone famous before, and even less my hero. Well, even though I kind of thought before hand what to say to Brandi, I didn't really know how I would fare, I was only assuming that she was really nice to people from the reports I could read here and there. So, here came the moment to meet her, the moment that would define the next 40 years or so...
"Form a line over here !" so we all queued up, there was I think like 30 people before me, long enough to make the excitement and anxiety reach the near-not-acceptable level but finally that was my turn, the so-much-anticipated moment.
It started a bit awkwardly, there was some kind of hesitation, I remembered that we stared at each other for what seemed to be 2 very long seconds and fortunately Brandi broke the silence and said "hi !" with a big smile. I answered with a line that would soon become my typical entry phrase : "hi, my name is Haruo and I come from France" which usually does its effect on Americans. She looked really pleased that I made all this distance to see her. "If it wasn't for you, I would be here in New York". I told her how much I loved her music, I made her sign CDs from some friends back in France and also one for me. It was funny because when I spelled my name, she said : "H..A..R...U...O... oh it sounds like HERO." My hero called me Hero, can you believe it ? It's strange to think that Hero would become my nickname later. I was already so happy but I had to keep this going so I continued with "I love you so much that I recorded a CD for you". She looked very surprised and touched. She asked " do you want me to sign it for you ?" and again I answered like so many times after that to a question she would ask me a lot of times at future shows : "no, that's a gift." She held the CD tightly against her chest and she said "aww, thank you so much" and then something I never expected to happen happened, Brandi began hugging me for what seemed an eternity. For whatever reason, for whatever feeling that went through me, I couldn't help but whisper to her ear "I love you", she was the only one that could hear it, I was totally overwhelmed by her kindness. She was very very nice from the beginning and she won a fan for life at that very moment, a moment of eternity and happiness. It was really hard to believe what just happened but I wasn't done yet, I needed to have my picture with brandi so I asked her right away. I remembered to get rid of my sweatshirt to uncover my cowboy shirt, which prompted Brandi to exclaim : "sexy !!" We took 2 pictures just in case. I remember that on the second picture she came really close to me. That was awesome, I felt so much connection to her. Finally, I thanked her and said goodbye to a wonderful artist and person. I walked upstairs to go out of the venue. I was still shocked when I sat on a bench at the subway station (Delancey street)... and I was happy, happier than I had ever been before.
Once back at the hotel, I turned on the tv and oddly enough, while I couldn't get a good reception all week of NBC, it appears clearly that very night and I could watch Brandi's performance of the The Story on Conan O' Brien's tonight show. I don't know how you can explain that but there is no coincidence, I'm pretty sure of that.
Aftermath
I still remember that meeeting and that night as it was yesterday, I'm very bad at remembering some distant events but somehow this one seemed to stay printed in my head and after almost 2 years, memories are still vivid. At the time, even though I never travelled on my own, I was already making plans of places to visit, things to say to the artists, what kind of material i needed to bring at the shows like pens, Cds, cameras etc. The foundations were already there and I knew the way I wanted to conduct my trip. What I couldn't see foresee is that Brandi would give me so much confidence to do that over and over again. Until now, I've been to 18 (!!!) Brandi shows and i've seen many many other people's shows too but everything started with Brandi and it all snowballed from that raining yet amazing day in New York. I really hope that everyone could live that night I lived and enjoy Brandi's unique personality.