21 janvier 2011
5
21
/

01
/

janvier
/

2011
22:48
Leaving Miami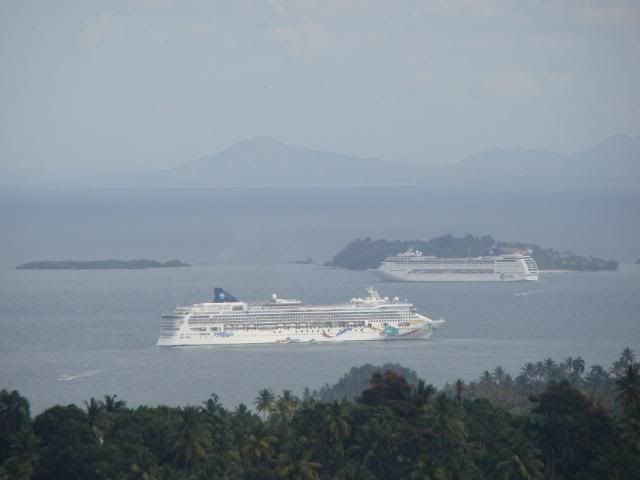 The Norwegian Dawn
Departing from Miami, Florida, the Norwegian Dawn set sails to the Carribean for what would become an unforgettable week of music and sun. I went on this cruise mainly to see Brandi Carlile and Tift Merritt. In addition to them, I would discover many other great artists like Katie Herzig, Patty Griffin, Shawn Colvin, Emerson Hart... I knew that this week would be very intense but not as much as it turned out to be. With the cayamo cruise, I had the chance to hear musicians that I would never have heard about because they just don't get the airplay that they deserve. During the first two days I was trying to figure out the boat and everything inside and not get too seasick too. After some time you get used to it.
Emerson Hart at the Spinnaker lounge
Aslyn duetting with Zac Brown
On the first day, I enjoyed seeing Beth Wood, Emerson Hart (from Tonic), Aslyn, Kathleen Edwards. They all gave convincing performances and they were definitely on my list of artists that I wanted to see again during the cruise. I'd like to give a special mention to Katie Herzig, an American singer born in Fort Collins, CO and now living in Nashville. Her sweet voice and shy demeanor totally won me over and it's no surprise that I would get to see Katie 3 times overall. I'd say that the first days were a bit shaky, in a literal way (with the ship steadily advancing to the Dominican Republic) and also because there was some chemistry issues with roommates and everything else. In fact, I think I was one of the few people who were « on duty » while everyone else was enjoying their vacation but I stuck with what I wanted to do and never looked back. I think i started turning things around when I could talk for an hour with Brandi Carlile's guitarist Tim Hanseroth at the buffet where it was quite easy to find the artists late at night. We talked about everything from music to food to travelling and I felt that the cruise really took off from there but there was still something missing…
with the lovely Katie Herzig
On Sunday, March 1st, I attended the strangest show of my life. we were sitting on the edge of the pool with waves of water splashing into our cameras and the wind blowing in very hard. These were the weather conditions of the show of the Indigo Girls with brandi Carlile. that was a pretty good show, although many people got sunburned (the show started at 1pm).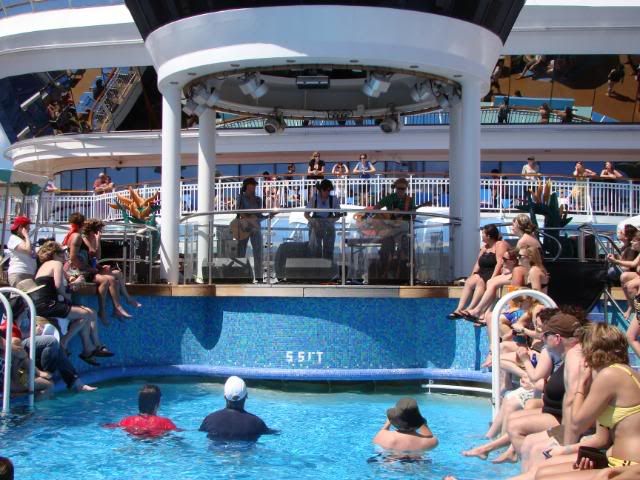 The Indigo Girls and Brandi Carlile at the pool deck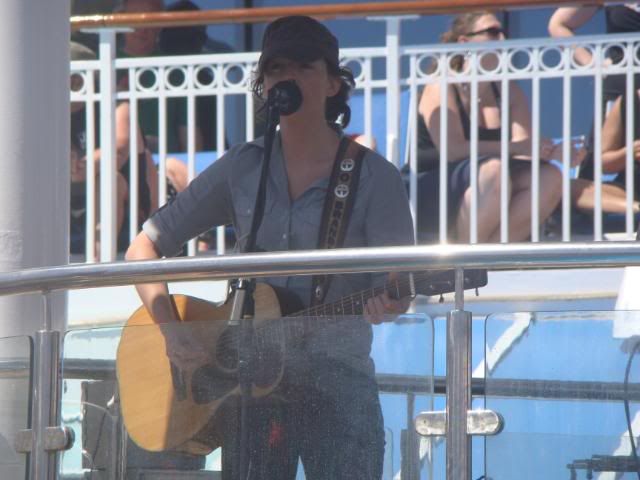 Brandi Carlile
The beautiful waterfall in Samana, Dominican Republic
On Monday March 2nd, the ship stopped at Samana in the Dominican Republic where we took a little trek to a beautiful waterfall. I really appreciated the Dominicans with their simplicity, I liked that things were kept natural compared to what I saw on the Virgin Islands or the Bahamas. Back to the ship, I was ready for the day I was looking forward to the most before the cruise.
I admit that I was a bit nervous before Tift Merritt took the stage at the Spinnaker Lounge because I brought some friends to her show and hoped that Tift would make a good impression. There was no need to worry at all ! During a one-hour show, Tift illuminated the boat with a performance for the ages. I haven't got enough words to express how I felt with our dear Tift pouring her beautiful songs on our helpless but happy minds. It's been a very long time since I've felt goosebumps like that. I'm pretty sure I wasn't the only one having tears in the eyes. Tift was very excited to play for us, she was beautifully dressed too and with the impeccable lightings, she seemed to shine even more. She sang Hopes too high, Broken, Stray paper, I know what I'm looking for now, good hearted man, keep me happy, bar with a tv on, another country, tender branch, supposed to make you happy (no mic), virginia, still pretending, something to me. I don't have much to say about the songs because well, she just sang them so perfectly, with such grace that it doesn't require any comment, just listen to the audio that will be uploaded later and you'll understand why whe got blown away by this amazing little woman. There was one particular funny moment during Stray paper, the engines started off making a strange noise that forced Tift to stop singing. She said she stopped because the noise creeped her out. Apparently, there was Titanic on the tv the day before the cruise and many artists actually watched it, prompting many jokes during the shows. Finally, after Something to me, Tift received a well deserved standing ovation. This show will stay as one of the most emotionally loaded concerts I've ever attended. I forgot to tell that people were lining up before the doors one hour the show began and I felt something special but little did I know that it would go so far, so high. After the show, my friends and I went to meet her. I went first and we just kept hugging each other because we were so happy to meet again and secondly I was still shocked by the show she just put on. I was very happy to tell her that she made new fans (my friends who came with me). We finally said goodbye and headed towards the Stardust theatre where the Headliners performed on this cruise (like Lyle Lovett, John Hiatt, the Indigo girls). Guess who took the stage : Brandi Carlile. As usual, she put on some kind of a show and her many fans would loudly cheer for her. She made everyone laugh when she said she wasn't wearing any shoes as she wanted to be as close to the floor as possible to keep stable. It was one of my first time seeing the band without a drummer and the songs sounded a bit differently but just as amazing.

To end this already magnificent day, I chose to go to a show without taking pictures or filming, i just wanted to rest a bit so we went to see Ed Robertson from the barenaked ladies. Well, I thought I would just relax and enjoy the show but this guy just played so good that he made me work, so I took my camera again and enjoyed his freaking good songs. Turned out he is Canadian and he can speak some French words so that was nice. Then we wanted to see Zac Brown Band but we only lasted 4 songs and we were too tired…..well Zac played 4 (!) hours until 5am ! Oh my !
It was still hard to find any sleep as I was still blushed by what Tift gave us that night.
Katie Herzig (center) and her band
Tift Merritt
After a short night, we arrived in the American Virgin Islands. Well, this is the US on islands ! Same cars, shopping malls… well, I was back into action to see this amazing band Girlyman and my now dear Katie Herzig. I'm pretty sure I got a crush for her right now. So before the cruise, I saw that Brandi and Tift would play a show at the same time slot, which was quite a dilemma for me. My mind had settled right before the cruise on seeing Brandi over Tift but somehow, with the way things went on the boat, I was leaning towards seeing Tift but it wasn't until the very last minute that I'd say to my roommate that I chose to see Tift. I made up my mind and it would pay off in such a big way that it still hard for me to realize. So, Tift was playing this little venue (the dazzles) on the ship and it was obviously much too small. People were very excited and there was just no room left. Tift recognized me and waved at me. The show was very intimate, very dark too because there wasn't enough lights. It was also weird because there was more people sitting on her right side than in front of her. At some point, I left my place, which was pretty good, but I just hadn't got any lights for my photographs so I ended up right at her feet ("yes, yes, don't be shy, come and sit here" or something like that). She notably sang Mille Tendresses in front of the confused audience to finish the show haha. As a Frenchman, I felt very proud to say the truth. She also sang Good-hearted man and My heart is free, full of rawness. And oh my, an acoustic version of Crossover. The show was really great, not as much as the first one because well, you simply can't top that one but after the show, I thanked her for playing Laid a highway and she said she was sure that I would love this one. The most significant point is that Tift was wondering if I was going to go to Brandi's show or hers. Really ? Anyway, she was very flaterred and I knew I made the right decision. I candidly asked Tift : « Where's is my drink ? (the drink she promised me in London in July '08)……well, she said with a big smile « okay, let's go to a bar ! » oh my, I couldn't believe that I would actually get that drink. We went at Gatsby's, the bar down below and we started talking and talking. It was so surreal to talk to her and Zeke, just like we were old friends. My roommate lost her way after the Brandi show and ended up at the same bar we were at ! And we all kept talking together until 1:30am. I have to say, Tift is the sweetest person you'll ever meet. We could talk about everything we wanted to, about of course music, influences, but also food, Paris, medics, best concert memories, Brandi… I don't really know what I did to deserve this but I just want to say I'm so grateful to know and admire such a remarkable person and artist. One funny moment was that Tift wanted to pay me the drink and we all took a glass of red wine but then as tricky as I am, I swapped the accreditation cards (that we used to pay everything on board) and I was the person paying for everyone else and Tift asked the bartender if she could pay but to no avail and she got mad at me and miming to hit me hahahahahha, good times. Aww, I love Tift, she's so talented, so honest and kind. We finally decided that it was time for bed and I said I wasn't done yet and told her to be ready for her last show. Before leaving, I was wondering how I was going to survive 2 days without a Tift Merritt show, which made everyone laugh. If I had to choose one moment during the cruise, it would be that one because she gave us her big heart and spent an hour with us.
The next day, we arrived in tortola in the british virgin islands. I got to touch for the first time a dolphin, which was an absolutely unique experience. Back on the boat, it was time to see Brandi at the main theatre, she was of course amazing. At the end of the show, Vienna Teng and her guitarist came on stage to sing a very nice version of Let It Be.
For the last show of the day, I went to see.... Vienna teng. She is very very talented and many people came to see her. At the end, Brandi and her band joined Vienna to sing a Simon & Garfunkel song and Brandi called out Tift to come sing along too. I was really surprised and Tift sang her heart out in her typical fashion. This was kind of surreal but this is something you secretly hoped for with everyone on the same boat. Yet again, Vienna and Brandi sang Let It Be again to conclude this amazing show.
The next day was a day at sea and we were a bit tired so I didn't get out of the cabin until 1pm. I was really looking to see for the first time ever Patty Griffin and she didn't dissapoint. Her song « love is a dud » particurarly was hilarious. Great songs, legendary artist. Before Patty, I saw Kathleen Edwards from Canada and Beth Wood. They're both very very good. I talked a bit in French with Kathleen and she wrote some suggestions for my visit of Toronto.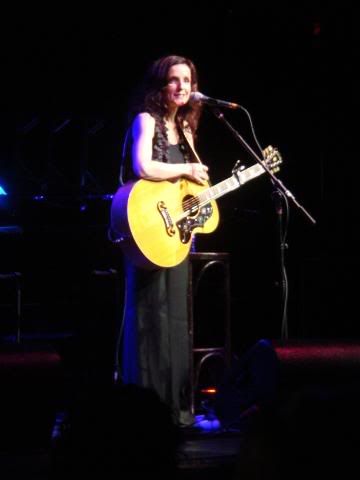 On the final day of the cruise, because of bad weather conditions, we were redirected to Nassau, to the Bahamas ! Not bad … we saw paradise island that we can see in many movies so that was nice to see it with my own eyes. The long awaited show of Tift was finally here. We made sure to arrive one hour and a half before the time of the show to get our front row seats. At the same time, we were informed that there was a gathering of Brandi and her fans but i gave my word to Tift that I would be there. So we greeted Tift and she gave us a big hug. She rehearsed I live for you, which gave me the chills. Then Kathleen and Tift rehearsed Supposed to make you happy, then Darrell Scott came to sing also and then……Brandi Carlile. I was so shocked to see them on the same stage. My two favorite artists in front of me ! They rehearsed Still pretending. All of this was announcing quite a show ! Right before the show, I went to see katie Herzig who was about to start her own show. I gave her some pictures I took from her previous concerts on the boat and she was very happy. But I was also sad to tell her that I couldn't attend her last show because I wanted to see Tift but Katie is definitively someone I would like to see again in the future. Well, 6:30pm, time for the show ! Tift delivered once again. The duets were beautiful. It was interesting to see during the rehearsals the adjustements they made and translating into pieces of beauty for the actual show. She ended up her last show as a single woman with a no-mic version of Something to me, right in front of us. My friend and I met Tift after the show. She asked me right away if she liked the duet with Brandi. Of course I loved it, I was wondering if she did that for me but she just got on very well with Brandi so now I'm quite waiting for a double headliner tour of Brandi and Tift ! Let's dream for a second….. I made a request for the London show in May, I told her that I wanted to hear Plainiest thing and she said she wanted to sing it that night but there was just too many people on stage during soundcheck that it was forgotten at the end. And finally, I gav her a bottle of Maker's Mark, we then hugged and said goodbye.
After that, we saw Beth Wood, Darrell Scott and Aslyn. They all performed masterfully, particularly Darrell who is a guitar magician. It's been such a long time since I've seen anyone play like that.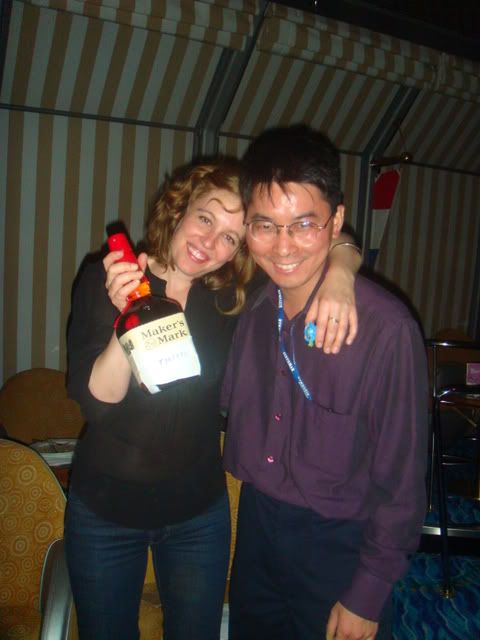 The cruise was at its end and it was such a blast to be part of that. It was every bit of what I expected it to be but honestly Tift stole the show and she made this cayamo cruise so special for me. Add to that that Tift and Brandi are good friends makes me really happy. It was also nice to hear and meet new artists like katie Herzig, Girlyman, David ryan Harris, Aslyn, Kathleen edwards, Ed Robertson, Patty Griffin, Shawn Colvin. If you have the opportunity to go on a cruise like this one, do it and you'll be forever changed.